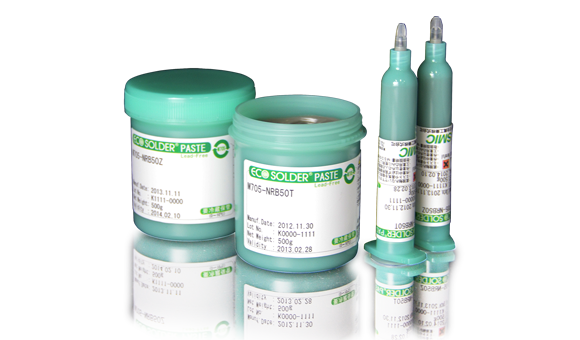 Solder Paste
Solder paste is prepared by kneading solder powder and solder flux and is used for surface mounting PC boards. SMIC solder paste is a combination of solder powder without oxidation in a uniform particle size and flux with excellent chemical stability. Our paste features excellent properties such as high reliability, good preservation stability, excellent solderability, and low generation of microscopic solder ball.
SMIC solder paste is available in print type and dispenser type according to the form of discharge. Also the RA type and RMA type are available. Solder paste is available in normal type, low-residue type and water-soluble type to match the flux residue and cleaning method for various applications.
ECO SOLDER Paste
Lead-Free ECO SOLDER Paste developed by SMIC is a next-generation solder paste that meets environmental requirements. Compared with existing solder paste, ECO SOLDER Paste solves various Lead-Free problems such as preservation stability, supply stability, solder wettability, and heat resistance resulting from the higher melting point.
S70G Series Solder Paste
A new generation paste family improving upon the industry standard GRN360 with excellent printing stability, enhanced heat resistance, reduced flux splattering, head-in-pillow elimination and tack power. S70G's enhanced wetting capability significantly reduces BGA joint non-wet failures and improves upon the in-circuit probe pin testing ability of previous generation pastes.
374FS Series Solder Paste
Specially developed for large area die bonding or surface mounting of semiconductor module. Good washability reduce boids generated under bare chip.
TVA Series Solder Paste
Developed for "stackable" 3D component mounting processes and is our most advanced solder paste to date. Consistent volume transfer during dip process.
DSR Series Solder Paste
Newly developed for dispensing excellence, DSR Pastes are compliant with a wide range of applications. Compliant with various heating methods such as; reflow furnaces, rapid heating laser and hot air convection.
345F Series Solder Paste
The ECO Solder Paste M705-345F Series exhibits excellent post-reflow de-fluxing properties, while maintaining increased thermal resistance, reduced solder balls and very stable viscosity characteristics.
Typical ECO SOLDER Paste products
S70G Series Solder Paste

374FS Series Solder Paste

TVA Series Solder Paste

Alloy

M705

M705/M34

M705

Flux content (%)

11.5

11.0

20.0

Haloid content (%)

0.0

0.2

0.0

Powder grain size

Type 3 (25 to 45µm)
Type 4 (25 to 36µm)
Type 5 (15 to 25µm)

#42 (25 to 45µm)

K (15 to 25µm)
F (5 to 25µm)
A (5 to 15µm)

Viscosity (Pa.S)

190

150

30

Features

Improved SMT quality & productivity

Good washability, reduce voids

Consistent volume
transfer for POP
DSR Series Solder Paste

345F Series Solder Paste

Alloy

M705

M705, M34

Flux content (%)

13.0

12.0

Haloid content (%)

0.05

0.20

Powder grain size

#32 (25 to 36µm)
#21 (15 to 25µm)
#32 (25 to 36µm)
#21 (15 to 25µm)

Viscosity (Pa.S)

70

200

Features

Excellent dispensing
& wetting
Excellent finsh
after cleaning